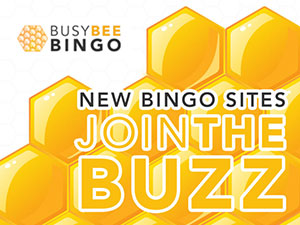 New bingo sites are added here every month. We often find 2-3 websites a month have launched so keep checking back here regularly. Each site is tested to make sure it is secure and is one of the approved countries in our whitelist. It's essential that the sites meet these requirements so you know you are playing in a fair environment and they have a full UK license.  You could also check out our other pages for new offers, bingo sites with a new design or under new management (so worth re-visiting!).
Our New Mobile Bingo Sites page has a list of the latest sites that are catered for players wanting to play on their smartphone device.
Recommended New Bingo Sites
Advice About New Bingo Sites
Just because a site is listed as being brand-new, it doesn't always mean there will be new side-games e.g slots, scratch cards and casino games, quite often a site will be using one of our approved software providers and under the contemporary design it could be the same as a lot of others out there.
If you are looking for something unique check our review page for each site to see which software it is using. If we have listed it as using custom software you will find that it may be offering something distinct from the other bingo sites listed.
You may find that when you check the promotions page of a site that it has exactly the same promotions as another site, this usually means it's part of the same network. You can always check out reviews page to see which network the site is on if you want to avoid this type of site.
We have often seen sites offering bigger bonuses and free bingo money when they launch. This is to get as many players to try the site as possible. These offers can be withdrawn after a few months and may not come back.
Although you may be unfamiliar with some of these sites, rest assured we have tried and tested them and have direct communication with the operators so you can feel safe and secure depositing.
This year there has not been as many new bingo sites launching as previous years. With the point of consumption tax on bingo operators being introduced and more strict rules from the UK Gambling Commission to protect customers with gambling problems it has hit the pockets of the gambling operators very hard indeed. There have actually been more closures than ever recorded in the industry. There is an overall decline in bingo sites on networks or "skins" as they are sometimes called. This has meant more investment from smaller companies in their own software to improve margins. However, I still strive to list the latest bingo sites, you may find that there are much more favourable terms to players and a general overall better quality experience.
New bingo sites launched October 2020
🆕 Which new bingo sites for 2020 allow you to play for free, no deposit required?
No deposit bingo sites are few and far between. There is a cost to the company running the website with every registration for doing ID checks and age verification due to the new UK gambling regulations. I have a list of sites that allow you to claim a free bingo bonus where no deposit is required here.
🆕 Where can I find new bingo sites that have no wagering requirements?
I have a list of sites with no wagering requirements here.. Although not having any wagering requirements seems very generous it is actually more down to the fact that a lot of gambling companies were forced by the UK Gambling Commission (UKGC) into this for not allowing players to withdraw their winnings. Ridiculous withdrawals policies meant that a lot of players were disappointed and making complaints about the strict withdrawal rules. This was brought to the attention of the UKGC, who made sure that terms and conditions were more transparent and withdrawal policies less obstructive. This means it is more fair for you, the player.
🆕 Where can I find a list of new sites that specifically run on Cassava (now more commonly known as Dragonfish)?
Each of my sites listed here have a link to the software provider. If you want to see a list of the new sites on that particular software platform then you can click through. For Cassava (Dragonfish) sites specifically you can check here. The original name for the Cassava software was Globalcom but that is going waaaay back. They then changed the name to Cassava Enterprises Ltd and then it became more commonly known as Dragonfish. Either way, these are all subsidiaries of the 888 Group listed on the stock exchange. You can be safe in the knowledge that they are licensed and the UK Gambling Commission are watching that everything is fair.
🆕 How do I know if new bingo sites can be trusted?
I make sure that every site added here has a valid UK gambling license and is tested for fairness. Below each site are the key terms and conditions, so you can be sure what the withdrawal conditions are and how the bonuses work. However, if you don't trust me just yet you can check which license a site has by clicking on it's name and viewing more detail. To be absolutely definite you can click "Visit Site", look in the footer of the website for the license number. Sometimes clicking this number will take you through to the public register of licensed operators. If the license number is not clickable you can copy and paste the license number into the public register search box here.
🆕 Can I sign up more than once on a new bingo site?
I highly recommend you only sign up once per household per site. Otherwise any winnings you accumulate may mean that your account gets banned and your winnings confiscated. There's no real way round this and we highly recommend you stick to this rule. It would be considered abuse of bonuses which you will find in the terms and conditions of most, if not all bingo and casino sites.
🆕 I signed up to one of your new bingo sites listed only to be told I am banned when trying to claim my winnings! THIS IS A CON!
This has been a common problem amongst players and it's a rule that's not very easy to understand. It may be that you have an account with another bingo site run by the same company license but how are you supposed to know? If this has happened to you or you are concerned you should click on the name of each site to check other sites run by the same company, commonly these are known as "Sister Sites". If you have self-excluded from one of these sites, chances are when you wanted to withdraw your winnings this has been flagged by the companies internal system for checking self-excluded players. These rules are imposed by the UK Gambling Commission and if they are not adhered to the company could face a huge fine of hundreds of thousands of pounds. If you have self-excluded then maybe you should take a break or seek some advice from GamCare. If playing is causing you financial difficulties, it's just not fun anymore and a source of worry, I really would insist that you stop and get some advice.
🆕 Are these new bingo sites rigged or a con?
I have tried and tested each site listed and they are independently tested by regulators such as Gaming Labs (GLI) and the International Association of Gaming Regulators (IAGR) for their randomness. That isn't to say that things aren't weighed slightly more in favour of the site though. This is just the general nature of gambling. You may have heard of the phrase "The house edge" this means the mathematical advantage has over you over a period of time. Sometimes this is described as the "Payout Percentage" especially in regards to online slots.
🆕 You say that these new brands aren't rigged or a con but the same person wins everytime?! Explain that.
It's more than likely that the player has bought a lot more bingo tickets than you for the current game, therefore increasing their chances of winning. Bingo, although considered soft gambling is just like any other form of gambling and is based on probability. If you consider a game of Roulette. Placing more chips over more numbers means you are more likely to win something back. The same concept is true with Bingo tickets.
🆕 Are there any tips or advice you can give me that will increase my chances of winning?
I would say to look for a few key pointers. Look for large jackpots or prizes in rooms with smaller amounts of people. Pick a time in the day where less people may be playing, also check ticket prices, obviously the cheaper the better. You stand more chance of winning a prize with less people. Even if the jackpot is small, if only 3 people are playing in the room you are more likely to have more wins.